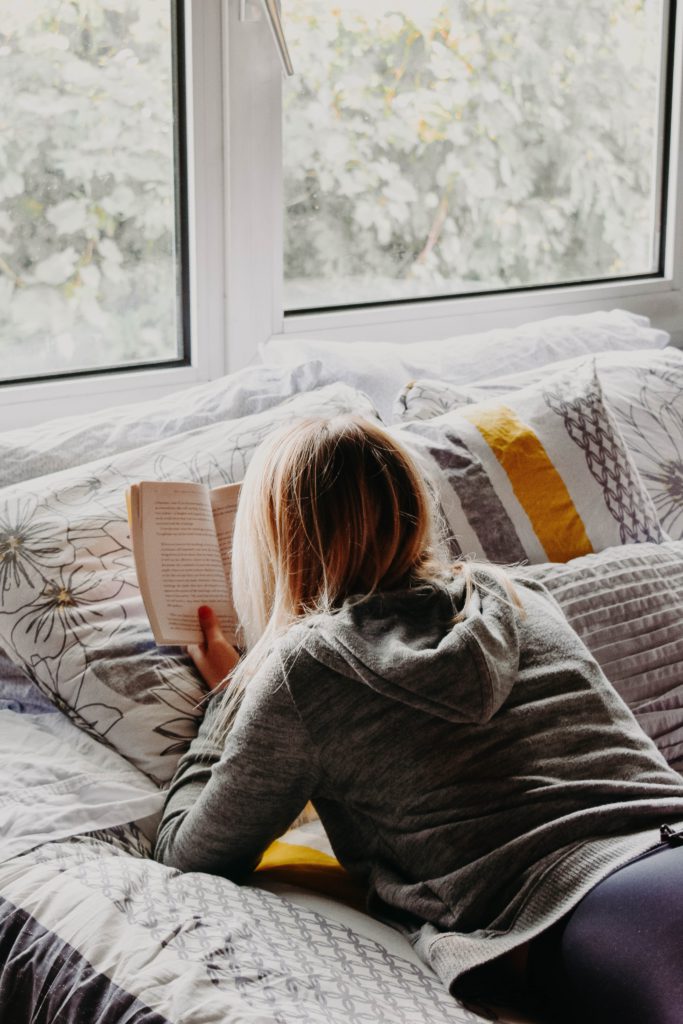 Why Every Girl Needs a Pajama Lounge
Remember how awesome it was to sneak up to your family's sitting room or bonus room back in the day when you were a kid? Ok, maybe you don't if you didn't have one, but if you did, you know how great it was to have a hideaway you could run off to in your PJs, along with your Hot Pockets and Gushers — a place you could play video games or watch movies for hours without anyone really bugging you. This is what a pajama lounge is all about.
These hidden, but not so hidden gems, are usually located away from the main part of a home, and oftentimes at the second floor landing of a staircase. The pajama lounge is back by popular demand and has become a necessity for many homeowners and those searching for a new home — especially women. You can call it the man cave for women — a space dedicated to your relaxation time away from the chaos of everyday life.
Here are five reasons you should have a pajama lounge in your life if you don't already.
1. You Need Your Own Space
If you share a space with someone, you know what it's like to crave your own space. If this is the case, create a pajama lounge in a section of your bedroom. The same rules apply whether you have your own place or share one. This is your space to do what you want with it.
If you do have your own place, you likely invite friends over and have visitors frequently. You still need your own space away that's reserved just for you, and this space will become your safe place where you can go to crash and rejuvenate when you're stressed or just need to relax and decompress. We all need a Sunday afternoon in our PJs every now and then.
2. Relax
We've heard the term man cave for years now, but we haven't heard of a woman cave. Now is the time for the pajama lounge — woman cave. The idea behind a pajama lounge is that you shouldn't have to worry so much about keeping it spick-and-span in case visitors come by because they won't have access to your private space, unless you want them to.
Obviously you're free to invite your closest gal pals to your pajama lounge to gossip and talk about life, while you eat junk food and watch chick flicks. Again, this space should be whatever you want it to be.
3. Express Yourself
A pajama lounge is the perfect opportunity for you to express yourself and let your creative juices flow. Whether you live alone or not, the main parts of a home are sometimes decorated more classic and mainstream to appeal to guests. If you have a roommate or a partner, you've likely decorated much of your home as a team, and this can shut out some of your favorite ideas due to compromise.
Your pajama lounge should be the opposite of this. Let your imagination soar — try out crazy décor ideas you've had on your mind since you scrolled through Pinterest weeks ago. Bring in overstuffed chairs or sofas to lounge on. Get that crazy chandelier you saw but couldn't justify buying before. This is the time to express yourself and try out new ideas.
4. Give Yourself a Reason to Organize
To set up a pajama lounge, you'll likely have to move a few things around to make space for one. Any extra closets will be a great place to start, as you can create extra space in your closet if you add deep drawers, maximize your floor-to-ceiling space and use a hutch for smaller closets. Turn any space into a pajama lounge, even if you don't have a second story. This is a great excuse to go through the things you already have and minimize what you don't need. This not only opens up space for your special area, but it also declutters.
You may even discover things you didn't realize you had that you can donate or repurpose for something else. Once you make space, you may realize you don't have as much room available as you anticipated. That's ok. There are plenty of tricks with paint, shelving and furniture you can try out to make your space bigger than it seems.
5. Make It Your Own
Spruce up your pajama lounge with your favorite things like your flat screen TV, movie collection, computer, sewing machine, magazines, bookshelf, trinkets and more. This is also a great excuse to eliminate your bedroom TV. Use this space to display personal photographs of family and friends you may not feel comfortable sharing with everyone. If you have a pet, this is a great place to also set up a comfy bed with their favorite toys.
If you have a particular hobby like painting or writing, this is a great place to set up your workshop, where you can think and come up with new and innovative ideas without distractions.
There are so many reasons why every girl should have a pajama lounge. Whether you feel you have extra space or not, you can reorganize portions of your bedroom or other parts of your home to create this coveted space that will surely provide you with many days of pure relaxation and enjoyment.
what do you think?