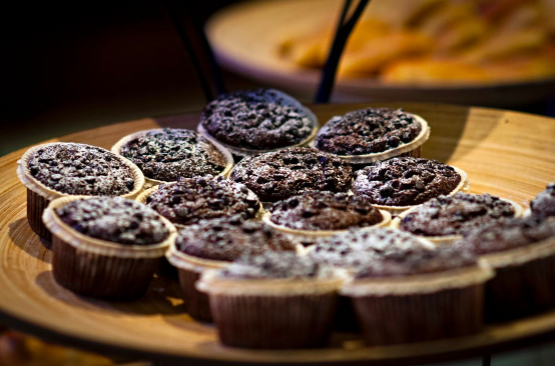 AJ's Breakup Bakes: Irish Car Bomb Cupcakes
Some breakups are worse than others, and some of us have been (un?)lucky enough to see the entire spectrum. From a sigh of relief to a crying session over a tub of ice cream, to a straight week of not being able to get out of bed, and everything in between. Sometimes that in between is not really being sure how to feel about your split. You know, like those times the bartender asks you if you want a beer or a shot, and the only reply that comes to mind is, "yes!"
Well, for a breakup like that, I've got just the recipe for you! A good bartender will likely handle your indecisiveness by bringing you an Irish Car Bomb, and lucky for you, those can also be transformed into adorable cupcake form. The recipe is a little time intensive, but it will allow you to clear your head enough to really think things through, and hopefully by the time they're done, you'll have come to the conclusion that you're really better off, despite the fact that you're sad and will certainly miss him.
These Irish Car Bomb Cupcakes consist of a Guinness stout cupcake filled with a whiskey-spiked dark chocolate ganache and topped with a Bailey's Irish Cream frosting. It doesn't get more car bomb-y than that…
 Ingredients:
For the Cupcakes:
1 cup Guinness Stout Beer
1 cup unsalted butter, room temperature
¾ cup cocoa powder
2 cups all-purpose flour
1 cup dark brown sugar, packed
1 cup granulated sugar
1½ teaspoons baking soda
¾ teaspoons salt
2 eggs
2 tablespoons molasses
⅔ cup (151 grams) sour cream
For the Whiskey Ganache:
10 ounces dark chocolate chips
½ cup heavy whipping cream
1 tablespoon light corn syrup
3 tablespoons butter, at room temperature
¼ cup Jameson Irish Whiskey
For the Irish Cream Frosting:
2 cups butter, at room temperature
5 cups powdered sugar
6 tablespoons Bailey's Irish Cream
Directions:
To make the cupcakes, preheat oven to 350 degrees F. Line two 12-slot muffin pans with liners. Heat the Guinness and butter in a saucepan over medium heat and bring to a simmer. I do not recommend using a different stout, as Guinness is carbonated with nitrogen instead of carbon dioxide. A traditionally-carbonated beer will affect the texture of the cake, but if you have another nitrogen stout that you like, feel free to use it!
As soon as the mixture reaches a simmer, add the cocoa powder and whisk until smooth. Remove from the heat and allow to cool for 20 minutes, stirring occasionally.
Sift the flour, baking soda, and salt into a medium bowl. In the bowl of a stand mixer (or a separate bowl,) beat the eggs, sour cream, and molasses on medium speed until combined. Add the sugars and beat until light and fluffy. Add the Guinness-chocolate mixture and beat on low speed until just combined. Gradually add the flour mixture and beat just until it forms a batter, about 30 seconds. Divide the batter among the cupcake liners.
Bake until a thin knife inserted into the center comes out clean, about 17 minutes. Cool completely before proceeding to the next steps.
To start the Whiskey Ganache, place the chocolate chips in a microwave-safe bowl and microwave for 30 seconds at a time, stirring in between, until melted smooth. Meanwhile, heat the heavy cream, butter, and corn syrup in a medium saucepan on medium-low heat until it reaches about 160 degrees F. Do not allow the mixture to boil. Once it reaches 160, reduce heat to low and slowly stir in the melted chocolate until it is smooth and free of lumps. Remove from the heat and stir in the Jameson. You may use whatever whiskey you like for this, but bear in mind that what makes the texture of the ganache perfectly buttery and melty is the amount of alcohol added to it. If you do choose another brand of whiskey, be aware of its alcohol content and make slight adjustments accordingly. Let the ganache cool until thick but still soft enough to be piped, about 30 minutes.
With a small knife or corer tool, cut out the centers out of the cooled cupcakes, going about two-thirds of the way down. Pipe the ganache into centers of the cupcakes (you don't need a piping bag: you can just put it in a zip top bag and cut off the corner and viola!)
To make the frosting, whip the butter on medium-high speed for 5 minutes using the whisk attachment of a stand mixer, scraping the sides of the bowl occasionally. Reduce the speed to medium-low and gradually add the powdered sugar until all of it is incorporated. Add the Baileys (you can use any brand or flavor of cream-based liqueur here,) increase the speed to medium-high and whip for another 2 to 3 minutes, until it is light and fluffy.
You're now ready to frost and decorate (and then devour…) your beautiful, booze-laden cupcakes. There, don't you feel better already?
what do you think?