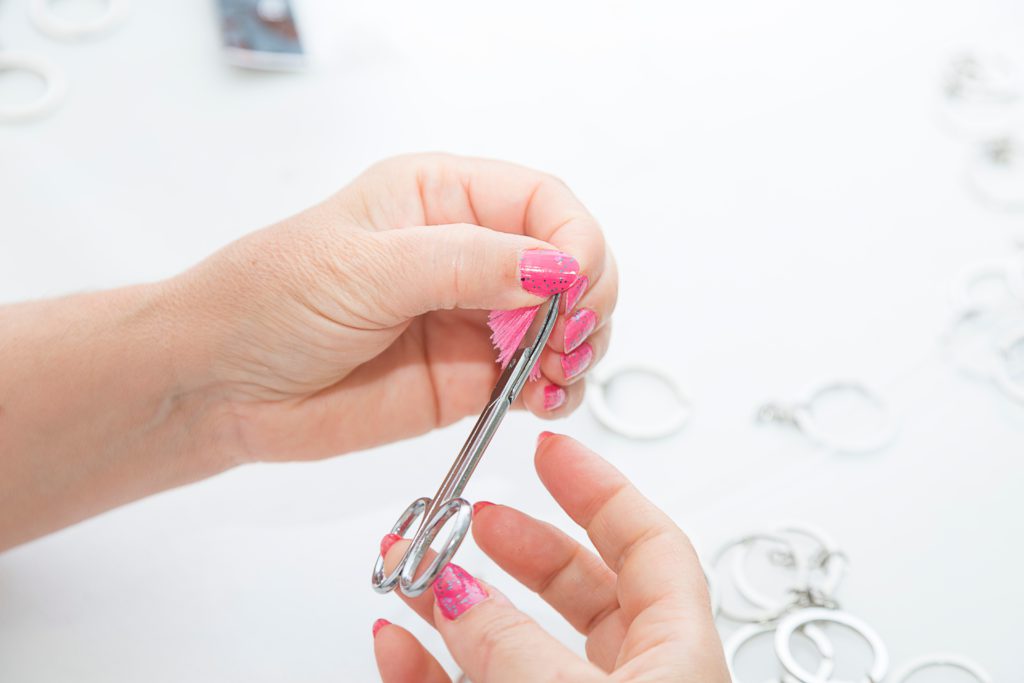 Craft Projects that Soothe and Heal Broken Hearts
Getting dumped sucks. There's no sense in sugar coating it because it just plain sucks. Getting dumped and having a broken heart is one of life's great struggles. It happens to everyone, and even though it feels like you're dying, you're not. Use these crafts to channel the strength, serenity and hope that you need to make it through.
DIY Wine Glass
If your wine glass has "Male Tears" written proudly in pink glitter, who's really going to question it? No body, that's who. Make this thing, get some wine and your best friends and settle down for a girl's night in.
First thing's first. You'll need:
A wine glass (or several)
Mod Podge
Glitter
Paint brush
Stencil (If needed)
Newspaper
Rubbing Alcohol
Painter's Tape
Wine
If you think your free hand idea might not look as great as you pictured, start the project off with a stencil. And keep in mind that you don't want the glitter too close to the top. That's where your lips go! Once you're all set, start by wiping down the glass with rubbing alcohol. Then wrap the painter's tape around the top and bottom where you want the glitter to stop.
If you're using a stencil, tape the stencil to the wine glass. You're welcome to make your own stencil if you can't find one you like! The pour out the mod podge onto a paper plate, dip the paint brush in, and apply it to the areas you want to glitter-ify. Then pour the glitter onto the glue. Let it dry completely!
Once it's dry, seal the glitter in either with clear mod podge or a sealing spray. You want it to be smooth to the touch, so add as many layers as you need. Now that it has glitter, you have to wash it by hand, but hey, it's still wine!
Redesign Your Jean Jacket
For a cool, bike-babe look, prepare to make some changes. Cut off the sleeves of your oldest, most worn jean jacket and sew on your new single look. Do you want it to be fun and flirty, or fiercely single? Whatever the message, you can get it attached to the back of your coat.
A classic look might be nice, with a fun hint at something nostalgic. Something along the lines of "Dinosaurs eat man; woman inherits the earth." This particular craft is incredibly easy. All you need is:
A patch with the saying you want
Scissors
Scrap fabric
An iron
Just cut off the arms – you can follow the seams. Leave the seams on if you want a cleaner look, or cut them off for a frayed, disheveled look. To apply the patches, just peel the paper off the back, position them the way you want, lay the scrap fabric over them, and iron them on. The heat from the iron will melt the glue and adhere the patch to your jacket. If it's having trouble sticking, flip it over and give it some heat from the inside.
DIY Aprons
If you have access to a sewing machine, scissors, cotton tape and a large tea towel, you can get as fancy as you like in the kitchen! You do still have to cook, and a new apron might get you a bit more motivated for Meal-Prep Monday! If you have a tea towel that has designs on it, then honestly, you're already halfway done with the project.
Fold the towel in half and cut out the arm holes. You can use a guide if you like, such as another apron, but if you don't have one just eyeball it. As long as you fold it in half, they'll be even. Pin the cotton tape to the edges of the new arm holes. This will be where you stitch. Make sure to make the ends of the tape long enough that you'll be able to tie it around your neck and waist! Clean up the loose threads, and you're good to go!
Of course, if aprons aren't your cup of tea, there are plenty of other things you can do with tea towels! They make great reusable paper towels, napkins, and a gazillion other things.
Bug-Out Grab Bag
Not all bug out bags should be designed to withstand the zombie apocalypse. Some can be made to carry you through the newly single apocalypse as well. Think about your favorite things to do that are small and easily transportable. Then put them all in a bag or satchel and hang it somewhere that you can reach when you need it.
What you need is pretty simple and almost entirely up to you:
An awesome satchel
All the stuff you'll put in it
If you're the type of person who despises following directions, this is the craft for you. You can include whatever you want, but there are a few staples that everyone likes. Your favorite candy, of course, a delicious candle, a vibrator, a list of raunchy comedies on Netflix, the phone numbers of your BFF's, chap stick, waterproof mascara, tissues, a face mask, and anything else that strikes your fancy. This isn't crafting the same way the other ideas are, but it's the one thing you can go back to when you've had enough. It's worth it.
Overall, there's nothing that will heal a broken heart the way time will. Every relationship ends one way or another. This one's ending is just one step closer towards the one that fills you up for the rest of your life. Power through.
what do you think?