The Book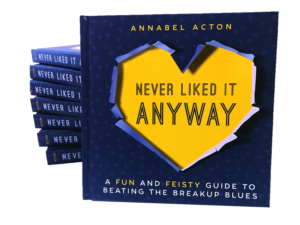 A fun and feisty guide to beat breakup blues!
We've all been there—cocooned on the couch and crying into a pint of Chunky Monkey. Luckily, Annabel Acton's Never Liked It Any­way is here to change all that. It's the ultimate go-getter's guide to getting over it. After all, the best revenge is not revenge at all—it's unleashing the most fabulous version or yourself.
This book is the very first breakup wreck-it journal designed to unlock your super powers. It's yours to play with, trash, love, abuse, and use—and, of course, have fun with. It'll make you leap into action, shake off those breakup blues and step beyond your default settings with a collection of quirky, quick, and future-focused challenges. All while being entertained by fascinating trivia about random things like heart metrics, tear production, and even the love lives of animals who definitely had it worse than you.
So dry your eyes, save the ice cream for happier times, and pick up this book instead.
The Box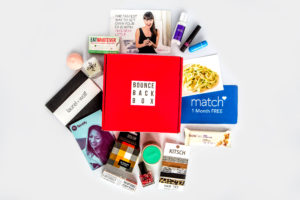 A box full of goodies to help you Bounce Back!
We've teamed up with some of the hottest brands to help get you back to fabulous. We don't want to give the game away too much (we love surprises), but believe us we've got you covered! From Elizabeth Mott mascara to Buxom lip gloss, to Kitsch hair ties, and online dating passes from match.com – you'll be better than ever in no time.
So if you're feeling a little glum, or your friend's in breakup land, send them a Bounce Back Box ASAP!
For the value inclined, this box is packed with feel-good fineries worth well over $100 – and we're letting them fly to heal hearts for just $30.